Harboring The Good Life in Dana Point With Good Places to Eat at the Harbor & Fun Things To Do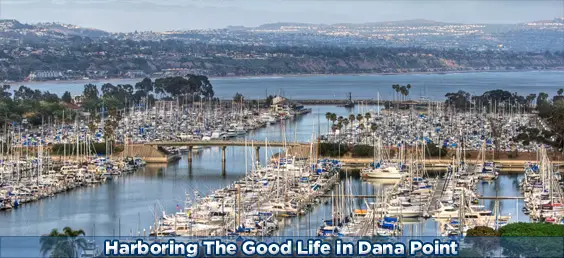 If you're looking for an ideal weekend getaway that's a round trip on one tank of gas, you should discover south Orange County. This beautiful region of the California coastline consists of romantic hotels, sun-drenched beaches, picturesque yacht harbors, superb restaurants and weekend adventures galore. Plus, it's freeway close.
Dana Point is named after Richard Henry Dana, who visited what is now called Dana Point in 1834. He later wrote the popular book Two Years Before the Mast about his experiences aboard a square-masted sailing ship. The focal point of Dana Point is the Dana Point Harbor, which is home to dozens of restaurants as well as shops, hotels and attractions. And the marina, with its fleet of 2,500 yachts, is one of the most active on the coast.
Time permitting, you should make it a point to drive along Dana Point Drive and discover the harbor by both car and foot. One very rewarding discovery is a visit aboard Pilgrim II, which is a replica of the square-masted sailing ship that Richard Henry Dana sailed on when he visited here in 1834 and 1835. Visitors can board this moored vessel on Sunday only 11 a.m.–2:30 p.m.
Popular Dana Point Restaurants
Fine dining is a popular pastime in Dana Point. For a dining discovery with a harbor view second to none, discover Jolly Roger at 34661 Golden Lantern, Dana Point (949-496-0855), a popular dining destination especially at sunset with its romantic waterfront views. Be sure to check out their fresh fish of the day selection, which changes daily. From Jolly Roger's Traditional Fare you will find a host of delicious entrées such as their savory Teriyaki Chicken. Also pleasing are their fresh salads and tasty sandwiches, wraps and burgers. If you can, save room for a slice of their New York style cheesecake.

Since 1939, the Harbor House Café has been serving breakfast, lunch and dinner to local residents, surfers, night owls, fishermen, bikers, out-of-towners and anybody else who loves good cookin! They are open 24 hours a day, 365 days a year.
Cannons Seafood Grill opened its doors in 1972 andis located on a cliff over looking the Dana Point Harbor, a historic setting chronicled in Richard Henry Dana's novel "Two Years Before the Mast".
| | | |
| --- | --- | --- |
| | | |
| Jolly Roger | Harbor House Cafe | Cannons Seafood Grill |
Where to Stay in Dana Point
The Dana Point visitor has a wide variety of accommodations available to fit in every budget. From camping at scenic beaches, to quaint Victorian bed & breakfasts, to the luxury of five star resorts, few cities offer more selections for the traveler.

For a first-class dining and accommodations discovery, visit the impressive Ritz-Carlton, Laguna Niguel Resort and restaurants. The Ritz-Carlton, Laguna Niguel is at One Ritz-Carlton Dr., Dana Point (949-240-2000) is a five-star and AAA Five Diamond resort and restaurant that caters to discriminating guests. Also worth raving about is their spectacular à la carte Sunday Champagne Brunch on the terrace from 10:15 a.m.–2:00 p.m.
For the budget-minded business traveler or vacationer looking for accommodations with a picture-postcard harbor view, discover the Dana Point Marina Inn at 24800 Dana Point Harbor Dr., Dana Point (800-255-6843). It's in the heart of Dana Point.

The St. Regis Monarch Beach, at One Monarch Beach Resort (949-234-3200), was imaginatively conceived to envelop the senses, answer every desire and stir the soul. With its oceanfront allure, Tuscan style and timeless attentiveness, it is a great place to stay.

Perched atop the cliffs of Dana Point, along the beautiful Southern California coast, the Laguna Cliffs Marriott Resort & Spa, at 25135 Park Lantern (949-661-5000), provides an oceanside escape like no other. From deeply romantic retreats to highly-successful business conferences, you'll discover rare luxuries and services to suit all of your needs. Enjoy exquisite dining, first-class accommodations, and a myriad of ocean activities.
| | | |
| --- | --- | --- |
| | | |
| Ritz Carlton | St. Regis | Laguna Cliffs Resort & Spa |
Things To Do in Dana Point
Whether you are in Dana Point for a weekend or a lifetime, there are plenty of options to fill your time actively, relaxing or simply Harboring the Good Life.
Step back in time by visiting the Mission San Juan Capistrano, located at 26801 Ortega Highway at Camino Capistrano (949-234-1300). It can be conveniently reached from I-5. The Mission was founded in 1776 by Father Junipero Serra and made famous by the return of the swallows every year on March 19. The Mission occupies 10 acres and includes the ruins of the great stone church and the Serra Chapel. The mission is open daily 8:30 a.m.–5:00 p.m. Admission is ($9) for adults; ($8) seniors 60 and over; ($5) children 4 to 11; free for children under 3.

The Dana Point Harbor offers specialty shopping, fishing and whale watching excursions, kayaking, Catalina transportation, and a variety of restaurants from coffee shops to fine waterfront dining. Across the bridge to Dana Island, more walking paths lead to yacht clubs, a restaurant and a continuation of the quiet waterside parkways.
Dana Point beaches are among the finest in the world. Dana Point is rich in surf history and is popular for surfing, tide pool exploration, walking and ocean enjoyment. Come and play at Salt Creek Beach, Doheny Beach, Baby Beach, or Capistrano Beach!

Dana Point has many shopping options for locals and visitors. Specialty shops abound for surfwear, home décor, gifts, flowers, candy, apparel or general goods. Small centers and independent boutique shops and the Dana Point Harbor satisfy the shopper's needs and wants with unique items.

Dana Point is known as the "Whale Capital of the West" because several types of whales use the point as a navigational landmark on their migrations north or south. Dana Point Harbor whale watching boats provide amazing experiences with these majestic animals off the coast.
| | | |
| --- | --- | --- |
| | | |
| Beautiful Beaches | Dana Point Harbor | Whale Watching |