Escondido is Home to Great Restaurants, the Wild Animal Park & the California Center for the Arts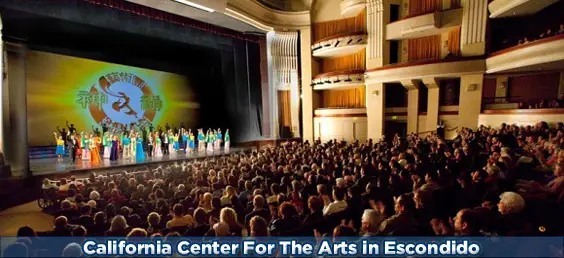 Although its name means "hidden" in Spanish, Escondido is one of the most visible, trend-setting communities on the rise in San Diego County. Incorporated in 1888 as a rural agricultural town, the City of Escondido is now a major center for commercial activity. In fact, in the last 20 years, its population has dramatically increased from 99,000 to 140,766.
Positive signs of growth include a $15.7-million city hall at 201 N. Broadway (760-839-4880). Additional pluses are a $2-million downtown revitalization program, a 1,500-seat performing arts theater, a 450-seat community theater, a 25,000-sq. ft. conference center and a 25,000-sq. ft. fine arts museum. All this growth has enhanced Escondido's image as a major city in San Diego's North County.
Escondido, which is 30 miles northeast of downtown San Diego via interstate 15, has a growing economic base primarily composed of service and manufacturing industries, health care services and retail businesses. In fact, over 1,200 acres within the city's 37 square miles are zoned for industrial use. Less than 5 percent is vacant and available in parcels ranging from one to five acres.
Escondido is also proud of its major hospital,
Palomar Medical Center (9)
, at 555 East Valley Parkway (760-739-3000). This 9-story, 300-bed medical center employs over 1,700 people. Plus, more than 2,000 physicians and surgeons practice in Escondido.
Downtown Escondido
Downtown Escondido is the cultural center for North County Inland. Here you'll find the magnificent and beautiful California Center for the Arts, Escondido (8) at 340 N. Escondido Blvd. (760-839-4138). This state-of-the-art complex includes a 1,523-seat concert hall, a 406-seat center theater and a museum.
Within the heart of downtown Escondido's urban vibe are 27 art galleries, five theaters, live music venues, museums and award-winning restaurants. Coupled with the impressive California Center for the Arts, Escondido (8), downtown Escondido has become the hub of the North County cultural scene.
| | | |
| --- | --- | --- |
| | | |
| Center for the Performing Arts | The Performing Arts Museum | Great Shopping Year Round |
Where to Dine
Rarely is a restaurant a major attraction, but this one is just that. This casual Escondido treasure features fantastic seafood entrees served East Coast-style. So discover the Sand Crab Tavern (6) at 2229 Micro Pl. (760-480-2722). Their slogan is "It's a little out of the way but way out of the ordinary." Be sure to call for directions. This place is a real winner!
On Centre City Parkway is Mi Guadalajara (5) at 575 W. Second Ave. (760-746-4371). This family-owned restaurant has been serving traditional Mexican cuisine since 1982.


Red Robin is at Westfield North County and is known for their delicious burgers and great selection of food, with a happening happy hour. Once you dine at a Red Robin Restaurant you'll know that every other hamburger restaurant is a wannabe compared to a world famous Red Robin Gourmet Hamburger Restaurant. This legend in the world of burger mania has been the most recommended since being founded in Seattle, Washington in 1969! Having a burger is more than just sitting down and having a burger. The setting sizzles with Americana memorabilia that runs the gammet from classic photos of James Dean to an American gothic super embossed picture of hamburgers on pitch forks.
| | | |
| --- | --- | --- |
| | | |
| The Sand Crab Tavern | Mi Guadalajara Restaurant | The Sand Crab Tavern |
What to See and Do
North County Inland's most visited attraction is the San Diego Zoo's Safari Park (11) at 15500 San Pasqual Valley Rd. (760-747-8702). This 1,800-acre park is home to more than 3,500 animals representing 400 species. In the winter, the park opens daily at 9 a.m. and closes at 4 p.m. In the summer, grounds are open 9 a.m.-8 p.m. The admission price includes the Wgasa Bush Line Railway Safari ride and is ($28.50) for adults and ($17.50) for children 3¬-11. Children under 3 are admitted free. Parking is ($8). Prices are subject to change. Present their coupon for $3 off admission.

En route to or from the San Diego Zoo Safari Park and Westfield Shoppingtown (6) is Orfila Vineyards and Winery (14) located at 13455 San Pasqual Rd. (760-738-6500). They feature award-winning wines and winery tours. Plus, by using their discount coupon in this book you'll get a free wine tasting and an Orfila logo wine glass.

One mile east of the Safari Park on Highway 78 is the San Pasqual Battlefield State Historic Park and Museum (12) (760-737-2201). Here, a Mexican War battle was fought on December 6, 1846, just a few years prior to California's admission to statehood in 1850. A visitor center allows individuals to relive the battle through its variety of displays and 10-minute film reenactment. The center is open Thurs.-Mon., 10 a.m.-5 p.m.
Another must-see attraction is
Queen Califia's Magical Circle Gardens (13)
, which is located in Kit Carson Park at the corner of Bear Valley Parkway and Mary Lane at 3333 Bear Valley Pkwy. Inspired by California's mythical, historical and cultural roots, the garden consists of nine free-standing sculptures. The imposing mosaic sculptures are all within an undulating circular wall measuring 400 feet in length, which surrounds the garden. It is an attraction of unequaled splendor and beauty. Other works by Niki de Saint Phalle can be found in Balboa Park and the University of California, San Diego campus.
| | | |
| --- | --- | --- |
| | | |
| San Pasqual Battlefield Park | Lion Exhibit at the Safari Park | Queen Califia's Magical Circle Gardens |
Where to Shop in Escondido
Escondido has one of the highest per capita retail sales totals in North County Inland. The biggest contributor is Westfield Shoppingtown North County (6) at 272 E. Via Rancho Pkwy. (760-489-2332), formerly called North County Fair. It has 120 stores in 1.2 million sq. ft., which makes it the largest enclosed shopping mall in the county.
In addition, Escondido boasts a $50-million, 87-acre Auto Park near I-15 and East Valley Parkway. It includes 12 dealerships.
| | | |
| --- | --- | --- |
| | | |
| Westfield Shoppingtown North County | Escondido Auto Park | Great Shopping Year Round |
Living in Escondido
Surprisingly, housing still remains affordable in Escondido, averaging $477,000. The surrounding countryside is incentive enough for living here. The terrain, for example, is marvelously varied with oak-covered hills, lakes, vineyards, avocado groves and citrus orchards. Contact the Escondido Chamber of Commerce at 720 N. Broadway (760-745-2125) for business and personal relocation information

San Diego Self Storage is a neighborhood self storage facilitiy, they focus on the surrounding communities this helps them to better serve each and every individual customer whether it is for a small personal unit or multiple larger units for large commercial accounts. Use their coupon for 1/2 off 1st 2 months.
| | | |
| --- | --- | --- |
| | | |
| Chaparral Ridge | Chaparral Ridge | Chaparral Creek |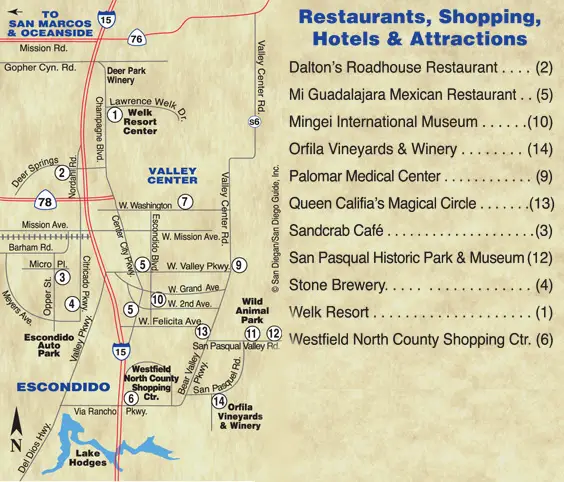 | | | |
| --- | --- | --- |
| | | |
| The Sand Crab Cafe | Mi Guadalajara Restaurant | Dalton's Roadhouse |
| | | |
| --- | --- | --- |
| | | |
| Shopping at Orfila Winery | Orfila Wine Tasting Room | Enjoy Great Events @ Orfila Winery |
| | | |
| --- | --- | --- |
| | | |
| Pala Casino | Casino Pauma | Harrah's Rincon Casino |
| | | |
| --- | --- | --- |
| | | |
| California Center for the Arts | Cruisin' Grand, Downtown Escondido | Discover Downtown Escondido |