San Elijo Hills is an Award Winning Master-planned Community & the Highest Point in North County
San Elijo Hills is an exciting new, easy access, family-friendly, master planned residential comunity on the hilltops and valleys of beautiful San Marcos. Yes, San Elijo Hills has it all including its ideal location on the highest point in San Diego's coastal North county with commanding views of the blue Pacific and the beautiful California coast. Gentle breezes cool the air at this family friendly coastal community. Home owners are attracted to its award-winning designs, which include a variety of home options from townhomes and affordable housing, to single family homes and estate lots.

Its greatest appeal is their small town charm and family-friendly atmosphere, with its new schools with superior academic rankings, playgrounds and wonderful little shops clustered around a state-of-the-art 40,000 sq. ft. Albertsons supermarket. All of these amenities and more make San Elijo Hills a worthy discovery. Yet, on a bigger picture, San Elijo Hills stands apart from any other master planned community, because of its yeas as a thoughtful planning focused on being an ideal family-friendly community.
For more information on the community of San Elijo Hills, its individual neighborhoods and the surrounding area, please visit the developer web site at
www.sanelijohills.com
.
The San Elijo Towncenter
The tree-lined parkway leading into the heart of the community travels past a small stream that flows from a rocky ledge. A tasteful marker announces that you have arrived at San Elijo Hills and the Towncenter.

The whole community achieves a focus and unity from this unique Towncenter. The Towncenter is built around a picturesque town square, which includes the Visitor Center (1) (760-798-1765). and in the same building is its fabulously popular yet very informal Pepper Tree Hills Eatery (1) (760-798-1722) at the corner of San Elijo Road South and Elfin Forest Road East. The eatery and Visitor Center is a popular meeting place for locals, who often greet each other on a first name basis. This neighborhood feeling is what the developers sought to achieve from the inception of San Elijo Hills and this local feeling has definitely been achieved here at San Elijo Hills.

The Visitor Center is open daily 10 a.m.–5 p.m. It provides a wealth of current information on the latest housing developments. So you should definitely visit the center. A topographic model displays an overall view of the entire community. The Towncenter (2) is a work in progress, anticipated to be completed over the next three to four years as the community grows. The Towncenter concept features a fully functioning small town that includes restaurants and cafés, retail stores and boutiques, a post office and a church.

Already complete, in the heart of the village's Towncenter (2), is a Chevron Gas Station (10) with a mini-mart and across the street are a cluster of user friendly shops including a Postal Annex at 1501 San Elijo Rd. (760-471-4748); for all of your dry cleaning needs there is the Windmill Cleaners at 1501 San Elijo Rd. (760-510-1788). Here too is a big, beautiful Albertsons Supermarket at 1571 San Elijo Rd. (760-798-1058). It's open every day from 5 a.m.–midnight.

If you are craving a place to have pizza and watch your favorite sports team, you are looking for Hendo's LOCAL Pizza and Pints at 1523 San Elijo Rd. (760-798-0522), which is also in the cluster of shops. They are open daily and even offer delivery service. A kids friendly destination in the village is called A Colorful Universe at 1523 San Elijo Rd. (760-761-0476). Here Moms, Dads and especially kids can create ceramic or glass candle stick holders. And what would a shopping village be without a yogurt shop, a dentist office or a place to get your nails done?

Rounding out the amenities that make San Elijo Hills so family-friendly are a K-5th elementary school and a 6th-8th middle school within walking distance of your home. The high school is the well-established San Marcos High School (11) home of the Knights, whose campus is located a few miles away. The 2010 API scores put San Marcos High School at the top of the area public schools. See map.

Also located in the village are attractive, attached row townhouses and lofts above village shops. For sales information contact Hometown Realty at 1501 San Elijo Rd. (760-798-1784). Currently, there are a few new lofts available at Marketwalk at San Elijo Hills (2) and they are priced in the ($400s). They are part of the final phase being offered in the village Towncenter area. Having virtually every one of your immediate needs steps away from your home is very appealing because The Towncenter is pedestrian-friendly. Controlled traffic patterns and clustered services make this a very walkable place.

Everything is within easy reach so that residents can run errands, catch up with friends, or just leisurely window-shop. The end result is a closeness and neighborliness, something found mostly in smaller, more established towns, and part of a disappearing American heritage.

This is a community in the making. Every day sees more growth and building. In the next several years the community will grow to a population of more than 10,000 residents and 3,400 homes. It is precisely this growth that makes this community so dynamic.
| | | |
| --- | --- | --- |
| | | |
| The San Elijo Town Center | The Visitor Center | Market Walk |
Live in San Elijo Hills, San Marcos
Thoughtful design, amazing variety, a wide range of prices and a fabulous location all combine to make this an attractive place to live. It begins with the community's architects and builders. Chosen for their reputation and past achievements, they have created award-winning designs for the community and its homes.

Current home builders selling at San Elijo Hills include the very much talked about solar powered homes being built by LENNAR. Going Green will never get any easier than purchasing a brand new state-of-the-art single family home at Terraza at San Elijo Hills (21) at 1100 Festival Rd. (760-798-2822). They feature three to five bedrooms priced from the mid ($500s). The newest offering by LENNAR is Belmont 1,446 to 2,093 sq. ft. 3–4 bedroom homes with 2.5 baths anticipated in the upper ($300's). Here too is DR HORTON known as America's Builder with their latest offering Altaire at San Elijo Hills (20) (800-646-7866). These home are priced in the ($600s). As the community develops, the mix of home builders may change, but the community's high standards will not.

Here at San Elijo Hills, there are and will be homes for every taste, need and pocketbook. Whether you are a first-time buyer, trading up, or moving from somewhere else, you can find a home to meet your needs and lifestyle. The selection includes townhouses, detached homes, single- and two-story homes, even estate homes. Homes are currently priced from the upper $300,000s into the $700,000s, and from approximately 1,400 sq. ft. to over 3,500 sq. ft.

The homes are and will continue to be architecturally diverse, with each neighborhood having its own identity. There are homes with porches, some with balconies, many with shutters, and all have tiled roofs. Homes are designed to reflect the traditional styles of coastal California communities built in the 1920s and 1930s. All are designed to be very attractive, extremely livable, and technologically up-to-date.
The natural boundaries provided by the surrounding hills give San Elijo Hills a sense of peacefulness, buffering the community from the rest of San Marcos. Its proximity to the coast also means that it is cooled by gentle ocean breezes. What a perfect place to live!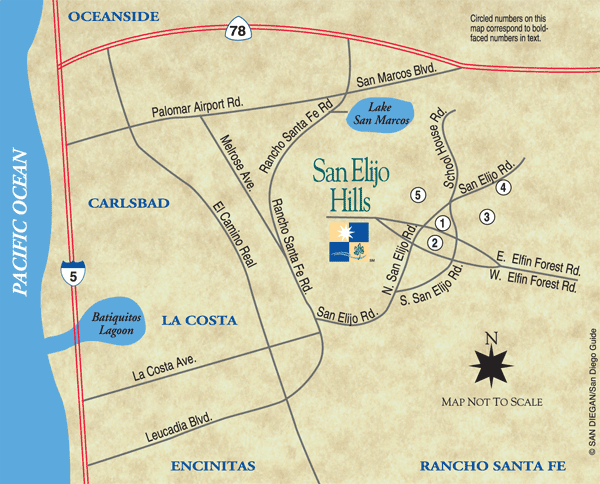 | | | |
| --- | --- | --- |
| | | |
| Terraza at San Elijo Hills | Belmont | Altaire at San Elijo Hills |
Explore the Trails and Open Space in San Elijo
Many say Southern California is paradise because of its fantastic climate. All those days of sunshine and moderate weather allow residents to follow their love of the outdoors. San Elijo Hills recognizes this Southern California lifestyle and caters to it. This is a community that values open space, fitness and closeness to nature.

To fulfill this commitment, San Elijo Hills has more than 18 miles of trails. The trail system is the most diverse in San Diego County and meanders through the community on well over 1,000 acres of open space. Throughout, it incorporates picturesque views for the hikers to enjoy.
What is even more significant is that there are trails for every type of hiker, from the casual stroller to the avid trail buff. With colorful and descriptive names like the Discovery Trail, Sunset Trail, Quarry and Canyon Trail, the trails travel over varied terrain so that hikers have plenty of options while they explore with nature.

Just as the trails vary in terrain, they also vary in length and type. Trails range in length from a quarter-mile to three-quarter-miles, and longer. Included in the design are plenty of trails for biking and jogging. Hard to overlook for its 360 degree view is a trek to the top of Double Peak Regional Park (6). It's a challenge for avid bikers and joggers alike. Yet, it is easily accessible by automobile as well. On a clear day the view is absolutely breathtaking. Scenic and serene, lush and lively, the trails bind the community to its surroundings and are yet another wonderful amenity of beautiful San Elijo Hills.

Near San Elijo Hills' schools and Towncenter is a 19-acre Community Park (5). San Elijo Hills Park is home to a host of activities and further adds to the identity of the community. Cheers rise from the ball fields as parents and neighbors urge on their softball or soccer teams. The fact that the fields are lighted is an added plus, extending the hours that the fields can be used.

The park also has a Community Center. The multi-use facility includes a day care facility and rooms for meetings, parties and lectures. Other attractive features of the park include two tot lots, trails, an interactive water feature and a dog park. Another amenity in the park is an outdoor classroom that can be used for educational events and entertainment. This beautiful outdoor setting will be the venue for small concerts, plays, classes and other community events.

And of course there are picnic areas in the park where families gather for leisurely outings, barbecuing, flying kites, playing tag or just relaxing in the California sun with friends.The park includes plenty of open spaces and a Vista Point. Whether strolling along a path or relaxing on a well-placed bench, from this vantage point residents enjoy the fantastic ocean views that are part of San Elijo Hills.

| | | |
| --- | --- | --- |
| | | |
| Great Hiking & Biking Trails | Double Peak Regional Park | San Elijo Community Park |
Quality Education and Great Schools in San Elijo
Schools are an important part of any community and can greatly influence a decision to purchase a home. San Elijo Hills makes that decision easy with their state-of-the-art San Elijo Elementary School (4) (760-290-2600) and a 6th–8th San Elijo Middle School (3) (760-290-2800), which are ideally located in the heart of the village. As part of the Towncenter, their location makes them easily accessible.

The high school is the well-established San Marcos High School (11) home of the Knights, whose campus is located a few miles away. Parents can be confident that their children will receive a solid education as San Marcos Unified School District has award-winning schools and a strong instructional program.

It is important to note that San Elijo Hills is surrounded by several outstanding higher education institutions. Palomar Community College (18), which is minutes away is recognized as one of the country's premier community colleges. With over fifty years of experience, they serve more than 30,000 students in their Associate of Arts and Associate of Science programs.

Equally solid in its educational program is the California State University at San Marcos (7). Cal State San Marcos, as it is known, has strong business administration and liberal arts programs. With a student body of more than 8,500 students, it offers a much more personal approach to education. Its teacher credentialing program is among the best in California.

| | | |
| --- | --- | --- |
| | | |
| San Marcos High School | Palomar College | CSU San Marcos |
Community Events in San Elijo Hills
San Elijo Hills is certainly a vibrant family-friendly community. Its community spirit demonstrates itself time and again throughout the year in a number of civic-minded events. Residents can even go Online for the local events or drop by the community bulletin board in the Towncenter (2).

The many events include the Egg Hunt, summer concerts in the park, a Fourth of July celebration and kids' parade, the OktoberFest and a Holiday Tree Lighting. Community spirit and involvement remain a priority in San Elijo Hills and are strongly promoted.

Don't miss the weekly Certified Farmer's Market every Friday at Meadowlark Community Church. It's from 2 - 6pm at 1918 Redwing Street. It's the best place to get fresh produce, meats, dairy, flowers and more.

With it's 1,900 acres of total acreage and of that acreage 1,100 acres has been set aside for open space, it's easy to see why this family-friendly community has become a sought after place to raise a family. The quality of life here, just can't be beat.
| | | |
| --- | --- | --- |
| | | |
| Certified Farmer's Market | Concerts in the Park | Jazz band at San Elijo Middle School |
Great Restaurants Near San Elijo in San Marcos
San Marcos Brewery & Grill at 1080 W. San Marcos Blvd. (760-471-0050) is an award-winning brewery and restaurant that specializes in 'American Grill' classics from steaks to pastas, seafood, burgers, sandwiches and salads.
Cocina del Charro at 1020 W. San Marcos Blvd. (760-471-6644) has a spacious Baja decor complete with thatched palapas, a large patio and a large bar where zesty margaritas and ice-cold cerveza are the order of the day, along side their famous Mexican cuisine.
Fish House Vera Cruz at 360 Via Vera Cruz in San Marcos (760-744-8000) is famous for their new concept of mesquite-grilling almost all seafood on the extensive lunch and dinner menus. They features a full bar, a patio, a fresh fish market and their menu is huge, with over least 30 fresh-fish selections to choose from.
| | | |
| --- | --- | --- |
| | | |
| San Marcos Brewery & Grill | Concina del Charro | Fish House Vera Cruz |
Attractions & Entertainment Near San Elijo in San Marcos
San Marcos is home to Old California Restaurant Row, where you will discover over 15 impressive restaurants and a diverse selection of cuisine from around the world. Many of these restaurants are great for live entertainment, dancing, happy hour and group dining. Enjoy an afternoon of shopping at the charming Village Boutique stores in their Courtyard near Friar's Folly.

A San Marcos favorite is them are Always Flowers, for cut flowers, arrangements, plants, balloons, and more. Couture House, where you can purchase reversible kimonos, Taichi and Kungfu outfits, Chinese blouses, jackets and dresses, children's clothing and Asian gifts.

Unique Boutique where you can browse through a large selection of unique discounted women's apparel and accessories. And at NEST, you'll find gifts for the home from over 100 different manufacturers such as Sir Oliver Candles, exquisitely framed art prints, table linens, home accessories and many more items.
| | | |
| --- | --- | --- |
| | | |
| San Marcos Brewery & Grill | Old Historic Restaurant Row | Old Historic Village Shops |