Romantic Balboa Park is a Historical Treasure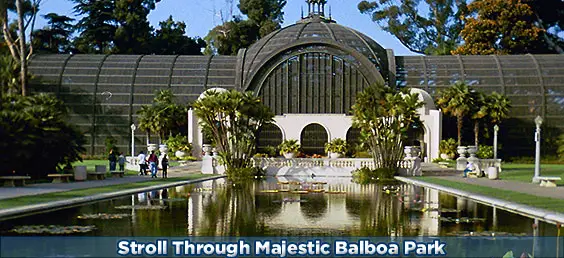 Romantic Balboa Park is the nation's largest urban cultural park consisting of a forest of exotic trees, well-kept gardens, and a majestic lily pond, which is the most photographed site in the park. Here too is the renowned
Old Globe Theatre
and 17 outstanding must-see museums, art galleries and one of the largest planetariums in the entire country.
The Historic Museums of Balboa Park
The part of Balboa Park that attracts the most attention is an area called El Prado, which is the street that runs east from the Laurel Street park entrance to the fountain in front of the San Diego Natural History Museum (16). Here, nestled in beautiful gardens enhanced by majestic palm and eucalyptus trees, are most of the park's impressive museums, galleries and other attractions. All are within walking distance of each other. The rest of the park is spread out over hundreds of acres.

There is also a Free Balboa Park Tram that circulates throughout the park for your convenience. The tram takes you right to the door of many must-see museums including the San Diego Air and Space Museum (25). It operates daily 8:30 a.m.-6 p.m. with extended summer hours. The bright red tram picks up passengers every 10-15 minutes in front of the museums and in the parking lots in the park. Riders can board and disembark the tram at their convenience.

Visitors are encouraged to park in lighted parking areas at night and to use the well-traveled sidewalks from the parking lots. There are many parking lots throughout the park. They all offer free parking and are shaded in gray in the map in this chapter. Two of the largest and most convenient parking lots can be found in front of the Air and Space Museum (25) and the Veteran's Museum and Memorial Center (31). Tram stops are located in both of these parking lots.

Another free service in Balboa Park is the Balboa Park Visitors Center (13), which is located in the House of Hospitality (619-239-0512). It is open daily 9:30 a.m.-4:30 p.m.; closed Thanksgiving, Christmas and New Year's Day. Gifts and event guides are available here. They also offer free ranger-led tours, which meet in front of the Visitors Center. Park rangers discuss the historical and botanical treasures of Balboa Park every Tuesday and Sunday at 11 a.m.

A big money saver is A Passport to Balboa Park, which is a combination ticket that allows you to visit a selection of 14 museums and attractions for more than 50 percent savings in admission. The passport is ($49) and must be used within seven days of purchase. If you have only one day to spend in the park, the Stay for the Day Pass is a great value at ($39). This package includes admission to five museums. Passports are sold at most of the museums, the Visitors Center, and at balboapark.org.

The museums are also great venues for elegant cocktail parties, sit-down dinners with tuxedo-clad waiters, and children's birthdays at themed museums like the San Diego Model Railroad Museum (14). For the convenience of our readers, we've included information on banquets, catering, weddings and events for many of the museums.
| | | |
| --- | --- | --- |
| | | |
| Model Railroad Museum | Natural History Museum | Air & Space Museum |
The SAN DIEGAN Walking Tour
The SAN DIEGAN self-guided tour can start anywhere in the park, but a fascinating beginning is the San Diego Natural History Museum (16) (619- 232-3821) [sdnhm.org]. It's an essential Balboa Park experience with its spectacular exhibits. Each year, the museum features several blockbuster traveling exhibitions in addition to its permanent exhibitions. Popular 2013 exhibits include On the Trail of Ansel Adams, Chocolate and Dr. Entomo's Palace of Exotic Wonders.

The museum's permanent exhibition is Fossil Mysteries, which takes you on a journey through 75 million years into Southern California's rich history. View and touch fossils of dinosaurs, sharks, mastodons, and more at this interactive exhibition. The exhibit is presented against a backdrop of 12 massive murals depicting color ful prehistoric worlds by award-winning paleontological artist William Stout.

One of Balboa Park's best-kept secrets is the museum's giant 3-D theater. All films are included in the price of admission and play several times daily. The museum is open daily 10 a.m.-5 p.m. except Thanksgiving and Christmas. Admission is ($17) adults, ($15) seniors, ($12) military and students with ID, ($11) for children 3-12, children 2 and under are admitted free.

With the only rooftop deck in Balboa Park, the San Diego Natural History Museum is a top pick for special events, parties and weddings (619-232-3821 ext. 182). In addition to educational and entertaining exhibitions and films, the museum of fers more than 300 nature-related experiences. If your trip to the museum piqued your interest in the world around you, try one of their free hikes around the county or sign up for a whale watching trip. Credit cards: AE, MC, VISA.

Across from the Balboa Park fountain is the Reuben H. Fleet Science Center (11) (619-238-1233). This large 93,505-sq. ft. science center showcases more than 100 interactive attractions. Plus, they offer planetarium shows and several films on Southern California's only Giant Dome Theater that surrounds visitors, creating a "you-are-there" experience. Their current 2013 exhibits include Explor-O-Rama: Get Your Hands On Science, Great Balls of Fire: Comets, Meteors, Asteroids and Origins of Life. Admission ($11.75) for adults; seniors and children 3-12 years are ($9.75). IMAX films are extra. They open daily at 10 a.m. and close Mon.-Thurs. at 5 p.m., Fri. 8 p.m., Sat. 7 p.m., Sun. 6 p.m. with extended summer hours.

North of the Natural History Museum is the Moreton Bay fig tree (4), which was planted prior to the 1915 Panama-California Exposition. This tree stands over 78 feet tall and is more than 120 feet wide.

Just past the Moreton Bay fig tree is one of Balboa Park's most beloved treasures. It's the Spanish Village Art Center (3) (619-233-9050). Admission is free to the 37 studios and five guild galleries that showcase the best local artists in San Diego. This historic village is comprised of charming cottages centered around a colorful courtyard, which was built to resemble a quaint Spanish village in 1935 for the California Pacific International Exposition. Wander from gallery to gallery and marvel at the work of more than 200 artists. You may even see some of them at work. This is a perfect place to purchase high quality ar t at reasonable prices for your home or office. And be sure to admire their handcrafted pottery, sculpture, blown glassware, paintings and much more! Each gallery in the village offers something different.

A great place to find original artwork at reasonable prices is at Gallery 23, which houses the Southwestern Artists' Association (3) (619-232-3522). The association maintains an ever-evolving exhibit of original paintings every month from their juried membership of more than 50 local artists! Their selection of San Diego landscape paintings is so captivating that the of fice of the SAN DIEGAN is decorated with many pieces from Gallery 23.

The village is open daily 11 a.m.-4 p.m. (closed Thanksgiving, Christmas, and New Year's). If you have ever wanted to sit behind a potter's wheel, learn to blow glass or how to hold a paint brush, the Spanish Village offers art classes for adults and children. Also, demonstrations and events take place throughout the year including big patio art shows in the fall. Visit the annual calendar of events at [san diegan.com] for exact dates and times.

One of the most endearing Balboa Park traditions, which has fascinated children of all ages for decades, is the Balboa Park Miniature Railroad (1). Children and adults just love it! Admission is ($3) and it's open school holidays and Sat.-Sun. 11 a.m.-4:30 p.m., and in the summer till 6:30 p.m.

Next door is the historic Balboa Park Carousel (2) circa 1910. It's one of the few carousels in the United States that offers a free ride if you catch the brass ring. Admission is ($2) and it is open Sat.-Sun. 11 a.m.-5 p.m.

Your next destination should be El Prado. Here you will find the lion's share of museums and galleries. A must-see attraction is at the Casa de Balboa Building (13). It is home to the largest permanent operating model railroad exhibit in North America with 28,000 sq. ft. of exhibit space. San Diego Model Railroad Museum (14) (619-696- 0199) [sdmrm.org] features interactive toy trains, Lionel-style electric trains and a 20-scale mile long rail crossing of the Southern Sierra Nevada mountain range. It is the only accredited railroad museum in the entire United States.

Always expanding and always under construction are new exhibits that are created by local railroad clubs. Also fascinating is the Toy Train Gallery, which is home to an impressive exhibit of an imaginary town with multiple train lines. The town changes with the seasons; look for autumn colors in the fall and Christmas lights in the winter. Kids can even operate some of the trains with the push of a button! Make sure not to miss a visit to the gift shop, which is filled with a fabulous array of railroad memorabilia for the railroad lover in your life. Their selection of vintage railroad posters is especially noteworthy. And if you are a history buff, their Erwin Welsch Railroad Research Library is a must. Big attractions here are their themed birthday parties and special events for kids of all ages. Contact Ana Penagos (619-696 -0199).

The museum and gift shop are open Tues.-Fri., 11 a.m.-4 p.m. and Sat.-Sun. till 5 p.m. Admission is ($8) for adults, ($6) for seniors 65 and older, ($3) for students with ID, ($4) for active military with ID, and free for children under 14 years and under. Admission includes access to their railroad history library. Credit cards: AE, DISC, MC, VISA.

Also in the Casa de Balboa building is without a doubt one of the most interesting museums in San Diego. It's the San Diego History Center (14) (619- 232-6203) [sandiegohistory.org]. The Society is celebrating its 83rd year of preserving San Diego's rich history. In addition to exhibits, the museum offers lectures, workshops and educational programs. It's open Tues.-Sun. 10 a.m.-5 p.m. and closed Thanksgiving, Christmas and New Year's Day. Admission is ($6) for adults, ($4) for seniors, students and military, and ($3) for children ages 6-17. And on the second Tues. of every month, admission is free to San Diego residents with proof of residency.

Your next discovery should be the Museum of Photographic Arts (14) (619-238-7559) [mopa.org] on the west end of the Casa de Balboa building. The exhibits change three times a year and present captivating photographic works of art by well-known and up-and-coming photographers worldwide. It's open Tues.-Sun. 10 a.m.-5 p.m. and closed Thanksgiving and Christmas. Admission is ($8) for adults and ($6) for seniors, retired military and ($5) for students with I.D. Admission is free to active military.

Next door to the west is the House of Hospitality (13), which is home to the Visitor's Center (13) and the award-winning The Prado Restaurant at Balboa Park (13) (619-557-9441). The Prado also includes a popular cocktail lounge. Their unique menu and charming setting make it a great place to dine.

Camera buffs never tire of taking photographs of the Lily Pond (9), which is one of the most photographed sites in the park. It was built in 1915.

Just behind the Lily Pond is the Botanical Building (17), (619-239- 0512) [balboapark.org] which contains more than 2,100 permanent tropical plants including an outstanding fern and orchid collection. The fine old wood lath structure is one of the largest of its kind in the world. It's open Fri.-Wed. 10 a.m.-4 p.m. Closed city holidays and Thursdays. Admission is free.

Equally impressive is the San Diego Botanic Garden located just 30 minutes north of Balboa Park in Encinitas at 230 Quail Gardens Dr. (760-436-3036). This hidden treasure was once a private estate garden and is now open to the public as a plant conser vator y and tranquil retreat. Use their discount coupon for $2 off adult admission and $1 off a child admission up to 4 persons.

The Timken Museum of Art (12) (619-239-5548) [timkenmuseum.org] is considered the most critically acclaimed collection of European Masters, 19th century American paintings and Russian icons. Their helpful audio tour guides you through an extraordinary collection of French, Italian and Flemish paintings, including works by Rembrandt and Rubens. Admission is free, and the audio tour is ($3). Hours are Tues.-Sat. 10 a.m.-4:30 p.m. and Sun. 1:30 p.m.-4:30 p.m. The museum is closed Mondays and major holidays.

The historic San Diego Museum of Art(10) (619-232-7931) [sdmart.org] is the first, largest and most impressive art institution in the county. Its world renowned collections consist of 14,000 art pieces dating as far back as 1500B.C. In addition, the museum has garnered international recognition for organizing and hosting major exhibitions featuring ar t from throughout the world. The museum is open Tues.-Sat. 10 a.m.-5 p.m., Sun. noon-5 p.m. Adults ($12), seniors and military with ID ($9), students ($8), children 6-17 ($4.50).

While browsing through the park, you will undoubtedly hear the majestic sounds of the bells from the 198-foot California Tower (7) ringing every 15 minutes.

The California Tower, which is in the San Diego Museum of Man (7), (619-239-2001), is considered to be one of the finest examples of Spanish-style architecture in the United States. The museum features fascinating exhibits on human evolution, Egyptian ar tifacts, Kumeyaay culture and Mayan monuments. Their popular 2013 exhibits include access/ABILITY: Explore the Ability in Disability, From the Vault: Rare Artifacts with Fascinating Stories, Instruments of Torture and Children's Discovery Center. The museum is open daily 10 a.m.- 4:30 p.m. except Thanksgiving and Christmas. Admission is ($12.50) for adults, ($10) for seniors, active military with I.D. ($10), students and youth ages 13-17 ($8), and for children ages 3-12 ($5).

Tucked behind the Museum of Man is one of the country's leading regional theater complexes and one of California's oldest professional theater organizations. It's the world renowned, Tony Awardwinning The Old Globe (6) (619-234- 5623), which features 15 plays and more than 500 performances each year. The complex comprises three theaters—The Old Globe Theatre, The Sheryl and Harvey White Theatre and the Lowell Davies Festival Theatre.

Every summer, theatergoers flock to their Summer Shakespeare Festival. The festival runs June-Sept. and showcases two of the master playwright's works performed under the stars.

Southeast of The Old Globe in the historic House of Charm is Mingei International Museum (8) (619-239- 0003), which has been a big hit in San Diego for over 30 years. Here you'll find Southern California's largest and richest collection of mingei, which is art from all eras and cultures of the world. Their permanent collection consists of more than 20,000 objects from 141 countries. The museum features dynamic changing exhibits of historic and contemporary folk art, craft and design. The museum is open Tues.- Sun., 10 a.m.- 4 p.m. Admission is ($8) adults, ($5) seniors, ($5) youth ages 6 -17, students and active military with ID.

To appreciate the works of more of San Diego's artists, visit the Museum of the Living Artist at the San Diego Art Institute (8) at 1439 El Prado (619- 236 -0011) [sandiego-ar t.org], in the House of Charm. Ever y four to six weeks a new exhibition is presented showcasing the contemporary works of local and regional artists. Admission is ($3) for adults, ($2) for seniors, students and military with ID, and children 12 and under are free. Open Tues.-Sat. 10 a.m.-4 p.m., Sun. noon-4 p.m. and closed Mondays.

In the heart of Balboa Park, next door to the Spreckels Organ Pavilion, is one of the most beautiful attractions in the park. It's the Japanese Friendship Garden (28) (619-232-2721). It is an idyllic retreat, radiating serenity, simplicity and beauty. View a Zen Rock Garden from a meditation room in the Exhibit House, which also features Japanese arts and crafts. Relax on the terrace next to a restful koi pond and its soothing water fall. The garden is truly a treasure you'll want to experience. In fact, it has become a popular setting for weddings and other special events. The Fujidana (wisteria arbor) is a nice outdoor reception area that can accommodate up to 200 people.

Another attractive feature of the garden is its educational programs. They offer classes and demonstrations where you'll learn the secrets of bonsai or origami. It also hosts a traditional Japanese Tea Ceremony, every Tuesday of each month and at 12:30 p.m. the first Saturday of each month starting in September 2012. The garden is undergoing expansion, which will extend it to its full 11 acres. The expansion includes a cherry tree grove, amphitheater, cascading waterfall, tea houses, and a tea and herb garden. They will also offer additional educational classes.

The garden is open Labor Day through Memorial Day, Tues.-Sun. 10 a.m.-4 p.m. Admission is ($4) for adults; ($3) for seniors, students and military with I.D.B alboa Park is also home to the second largest outdoor pipe organ in the world, the Spreckels Organ Pavilion (18) (619-702-8138) [sosorgan.org]. It was first played here in Balboa Park in 1915 and its music resonates throughout the park. Best of all, organ concerts are free. Per formances are held every Sunday at 2 p.m., rain or shine. Don't miss the annual organ festival on Mondays at 7:30 p.m. from June 25 to August 27.

One of the most popular museums in Balboa Park is the San Diego Automotive Museum. Since the museum is at the far south end of the park, it's a good idea to ride the free park tram that constantly circles from El Prado to the Air and Space Museum. There is also ample parking here. Adjacent to the Air and Space Museum, the Automotive Museum features rotating theme shows that display significant rare and exotic cars and motorcycles, and vehichles reflecting the history of the automobile. Enjoy the classics of bygone eras as you stroll through the roys of cars that are all restored to flittering splendor. Don't forget to browse through their museum gift shop. Their latest exhibits include the Barn Finds, Harley-Davidson, Lowrider Legends and Show Stoppers.

Don't miss Balboa Park's fascinating aeronautical museum. It's the San Diego Air and Space Museum (25) (619- 234-8291), which is located in the historic Ford Building (25). The building is directly under the flight path of aircraft bound for nearby Lindbergh Field. You can hear these massive jetliners overhead as you browse this astounding collection of aircraft. This huge museum displays famous aircrafts, engines, spacecraft and aviation ar tifacts from the dawn of aviation through the space age. Also here is the International Aerospace Hall of Fame (25), which honors heroes of aviation and aerospace history.

The Air and Space Museum's newest exhibits are the highly acclaimed must-see Atlas Rocket Exhibit, the Museum is proud to showcase an exciting new exhibit that tells the story of the Atlas rocket series from the late 1950s to the present using both graphics and videos. Other exhibits include the Centennial of Naval Aviation Exhibit and the Kid's Aviation Action Hangar. There are several new editions to making a visit to the San Diego Air and Space Museum even more fun. Open select days from 11 a.m.-3:30 p.m. is the Flight Path Grill ($.50-$8) [flightpath grill.com] offers hungry museum visitors great cheeseburgers and sandwiches, pizzas and a tasty Caesar salad with beverages. They even have specials and if you go online you can download a coupon for a free cookie with a combo purchase. Also, check online for their schedule of days open. Visiting this museum just got a lot more fun.

Here too is the new Kids Aviation Action Hangar. This "kids only" area has an abundance of attractions for kids of all ages from preschoolers with coloring books and magnetic toys to a flight simulator experience for older kids in a real wind tunnel. A visit to the Kids Aviation Action Hangar is included in the price of admission. Also action packed is the newest fun packed simulators including the sleek squadron of indoor full-motion multi-role aircraft rides. They do sky loops and screaming dives as well as aerial combat turns. This is the ride every dare devil will want to ride. But you must be a least 44 inches in height to climb aboard. If you're not, you know you'll be back when you are the minimum height. The museum is open 10 a.m.-4:30 p.m. daily, with the last admission at 4 p.m. Extended summer hours till 5:30 p.m. Closed Thanksgiving and Christmas Day.

Admission to the museum and the special exhibit is ($24) for adults 12 and over; ($21) for seniors, students and retired military with ID; ($12) youth ages 3-11; children 2 and under are admitted free. Active duty military ($6.50); adult members of the SDASM ($6); and SDASM youth members ($4). Admission to the museum only is ($17.50) adults 12 and over; ($14.50) seniors, students and retired military with ID; ($7) youth ages 3-11; children 2 and under are admitted free. Active military with ID are admitted free. Be sure to use their $4 off adult admission coupons in this book.

Banquets and special occasions including reunions, weddings and conventions are unforgettable under their canopy of historical aircraft. Contact Cassandra Saxton and Melissa Paris (619-234-8291). Aviation enthusiasts should also visit The Flying Leatherneck Aviation Museum on Miramar Road (858-693-1723). Admission is free.

A tour of Balboa Park would not be complete without visiting the Veterans Museum & Memorial Center (31) (619-239-2300) [veteranmuseum.org] located in the former chapel of the Naval Hospital. This museum houses military artifacts and memorabilia from the Civil War to the present. Impressive murals of Pearl Harbor and significant historical military events adorn the walls.

A touching tribute to members of the armed forces is their beautiful Veterans Memorial Garden. Divided into three sections, it honors those who served "in the air, on land and at sea" with a walkway of flags, an amphitheater, fountain and a B-24 replica. The museum is open Tues.-Sun. 10 a.m.-4 p.m. Admission is ($5) for adults, ($4) veterans and seniors, ($2) for students wth ID, and is free to children 12 and under and military and their dependents with ID. Use their online coupon for a 2 for 1 discount on admission.
| | | |
| --- | --- | --- |
| | | |
| Spanish Village Art Center | Mingei International Museum | San Diego Museum of Art |
Free Museum Admission For Residents
FREE Admission For Residents Residents of San Diego County, military personel and their dependants are offered free admission to many of Balboa Park's best museums and attractions on the first four Tuesdays of the month! Proof of residency is required.


First Tuesday
Natural History Museum
Reuben H. Fleet Science Ctr.
Model Railroad Museum
Centro Cultural de la Raza

Second Tuesday
Museum of Photographic Arts
San Diego History Center
Veterans Museum & Memorial Center

Third Tuesday
San Diego Art Institute
Mingei International Museum
San Diego Museum of Art
San Diego Museum of Man
Japanese Friendship Garden

Fourth Tuesday
San Diego Air and Space Museum
San Diego Automotive Museum
San Diego Hall of Champions
Reviewed & Recommended in Balboa Park
| | | |
| --- | --- | --- |
| | | |
| SD Air & Space Museum | Japanese Friendship Gardens | Spanish Village Art Center |