East Village is Downtown San Diego's New Urban & Modern Community Near the Bayfront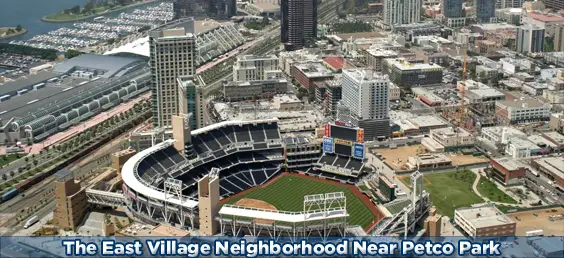 The East Village is the last of the downtown neighborhoods to undergo significant redevelopment. Boosted by the success of PETCO Park, the Centre City Development Corporation has given the green light for builders to develop the area. In fact, 15 residential units are planned, including at least three affordable housing buildings, as well as significant office and commercial space.
The 325-acre East Village is also home to PETCO Park (25), the National League San Diego Padres ballpark. This 42,685-seat venue is a state-of-the-art facility. Architecturally magnificent, with natural stone and stucco exterior and beautiful landscaping, it combines the best sight lines in baseball with breathtaking views of San Diego. Ballpark guided tours (619-795-5011) are offered Tues.–Sun.
Highly recommended is the popular cafe and coffeehouse The Mission (2) at 1250 J St. (619-232-7662), which is located in a charming historic house. Their specialties are delicious breakfast entrées like blueberry cornmeal pancakes, which are served in huge portions. Locals flock to their full-service coffee bar where they serve fresh ground coffee and espresso. Their patio seating is a great way to enjoy the lively East Village scene. Use their coupon for 50% off One Entree.
East Village Features Dynamic Restaurants
Basic Urban Kitchen + Bar at 410 Tenth Ave. (619-531-8869) is located in the heart of the East Village, it was converted from a 1912 warehouse and has been left wide open and raw, featuring original brick walls, high ceilings and industrial garage doors. Their atmosphere is relaxed and chill attracting a cool urban crowd that live, work and play in Downtown San Diego. Their menu features New Haven, Connecticut thin crust brick oven pizzas nightly until 2 a.m. and an open bar, perfect for visit before or after a padres game.
The Mission Restaurant at 1250 J Street (619-232-7662), is where diners go to eat simple, healthy, great-tasting food they won't feel guilty about. Breakfast is their specialty, so you won't go wrong by ordering their blueberry cornmeal pancakes that are as big as the plate they come on. They're filled with fresh blueberries and sweet cornmeal, and topped with powdered sugar and their sweet berry purée. Also worthy of rave reviews is the chicken apple sausage served with crispy rosemary potatoes, grilled rosemary bread and scrambled eggs.
The FleetWood bar at 639 J Street (619-702-7700), restaurant and lounge is a great place where you can meet people from all walks of life or bring your own party. They feature fresh homemade food, open air dining in the heart of Downtown San Diego. Located across from the ballpark, The FleetWood restaurant, bar & lounge is one of East Village's favorite local spot promising to keep it real.

| | | |
| --- | --- | --- |
| | | |
| Basic Urban Cafe | The Mission Cafe | The FleetWood |
Attractions in The East Village
Downtown has changed dramatically. For example, in April of 2004 PETCO Park, which is home to the National League Padres baseball team, opened its gates. Bounded by Tony Gwynn Way (Seventh Avenue) and Tenth Avenue, Imperial Avenue and J Street, the ballpark is a state-of-the-art facility. The ballpark's advent has spawned a building boom. New residential units, restaurants, shops and hotels have blossomed, transforming a once blighted, industrial area into a thriving urban landscape.

The San Diego Padres (619-795-5000) play home games (April through September) at PETCO Park. Call (888-697-2373) for ticket information, tickets are generally ($5-$65). Night games begin at 7:05 p.m.; day games at 1:05 p.m. Games, days and times are subject to change. Parking is ($8-$15). Pre-sold parking ($15).

Designed to hold some 42,000 excited fans, the ballpark features specialty seating areas along with seven lounges and restaurants. On game day fans can use one of the many parking lots and structures that are within walking distance of the park. Especially convenient is Sixth and K Parkade (25), located across thestreet on Seventh Avenue. To park here during Padre games there is a ($12) flat rate.

The Metropolitan Transit System (MTS) Trolley (27) is another popular way to get to and from the game. The Blue and Orange lines take baseball fans right to PETCO Park. The ballpark and the Gaslamp are made for each other because excitement and entertainment is what the Gaslamp Quarter is all about.

The East Village Tavern & Bowl at 930 Market St. (619-677-2695), is one of Downtown's latest entertainment attractions, featuring a modern and lively bowling alley and great casual dining selections.

| | | |
| --- | --- | --- |
| | | |
| East Village Tavern & Bowl | PETCO Park | San Diego Padres |
Where to Live in East Village & Downtown
The East Village and Downtown San Diego are a great place to live work and play, the CCDC Downtown Living Guide is a great resource to find your perfect home. Download it HERE.
For budget-friendly to luxurious multimillion dollar high-rises with incredible views, the people to contact are Benjamin and Christine Mason of Stay San Diego (28) at 1465 Market St. (619-696-3280). They have fully furnished luxury units for short- or long-term stays, which are available on a moment's notice. These properties include exciting condos in the Gaslamp Quarter. Some actually look right down on the baseball field at PETCO Park. And of course almost every condo has a bay and ocean view. So why stay anywhere else when you can enjoy the best for less.
Reviewed & Recommended Dining Downtown
Reviewed & Recommended Attractions & Entertainment