The Embarcadero is Home to World Class Harbor Tours, Nautical Museums & Bayfront Dining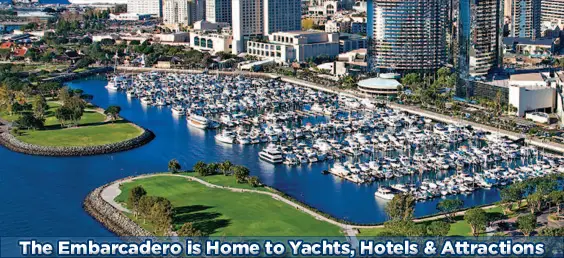 No visit to downtown San Diego would be complete without exploring the city's waterfront. It's home to the oldest iron sailing ship afloat, world-class harbor tours, superb restaurants with spectacular bay views and the fascinating Maritime Museum.
A brief look at the Embarcadero map, will reveal that the must-see USS Midway Museum as well as the enchanting Seaport Village are here. It's a-turn-of-the-century re-creation of a waterfront village filled with shops and restaurants.
The only question is where to begin, which is best answered by where you decide to park and what your mode of travel will be. For example, the flat 13⁄4-mile Embarcadero is a walker's, jogger's and bike rider's paradise. And every day of the year joggers from many downtown office buildings and condo dwellers make the Embarcadero one of their favorite thoroughfares. But there is plenty of room for everyone on the wide cement boardwalk. So wherever you decide to park your car is a good place to begin your discovery of downtown San Diego's inviting Embarcadero.
At the foot of Broadway is where passengers board the harbor cruise lines for fascinating narrated bay cruises. At the B Street Pier, which is just north of Broadway, big cruise lines depart for extended ocean cruises.
Cruise and Dine on the San Diego Bay
The oldest harbor cruise company in San Diego is Flagship Cruises & Events (4)(619-522-6155). They have been in operation since 1915. Being in business for 95 years is a recommendation that's hard to beat. Their ticket office is at the foot of Broadway at 990 North Harbor Drive. Tours cost ($37) on weekdays; ($42) on weekends. Senior citizens and military receive $5 off; children 4–12 are ($18.50) on weekdays and ($21) on weekends. under 4 are free. They also offer whale-watching adventures, dinner and champagne brunch cruises. Use their coupon for $5 off dinner or champagne brunch cruises, harbor tours or seasonal whale watching.

You can also board here for ferryboat rides to Coronado Island and back, which are 15-minute trips each way. There is no doubt about it, one of the most memorable ways to see this beautiful city is from the water via a harbor cruise.

Another excellent selection for a harbor cruise is Hornblower Cruises & Events (4) (619-725-8888). It's located at 1066 N. Harbor Dr. at the Embarcadero, which is next door to Flagship Cruises & Events' ticket window. They offer both one-hour ($23) and two-hour ($27) harbor cruises. They have six two-hour tour departures daily with seven in the summer. Senior citizens 55 and older and military receive $2 off; children 4–12 are half price; under 4 are free. It's a wonderful way to see San Diego harbor. Hornblower Cruises & Events also offers seasonal whale and dolphin watching adventures, fabulous nightly dinner cruises and an excellent champagne brunch cruise. Use their coupon for $5 off their happy hour cruises, harbor cruises, dinner and champagne brunch cruises.

Next door to the north is the B Street Pier (10), which is San Diego's international cruise ship terminal. This is where beautiful cruise ships dock. More than 190 cruise ships pass through here each year! This vast expanse of cruise ships visiting San Diego can be attributed to the wonderful job the San Diego Port District does. For more information on the cruise terminal and cruise ship arrivals and departures, call the San Diego Unified Port District (619-686-6342).
Downtown Attractions on the Embarcadero
Next door to the cruise line terminal is the fabulous Anthony's Fish Grotto Restaurant (3) (619-232-5103), which has been in business for 65 years. They have received San Diego's Best Seafood Restaurant Award from the San Diego Union-Tribune Readers' Poll for the last 14 years. This restaurant offers a beautiful harbor view along with the freshest seafood available. For quick-serve patio dining overlooking the water, dine outside at their Anthony's Fishette (3) (619-232- 2175).

North of the Broadway Pier is the Maritime Museum of San Diego (1) at 1492 N. Harbor Dr. (619-234-9153). The fascinating floating museum at the Embarcadero consists of six historic ships: the Star of India, which is the oldest active sailing ship in the world, the steam ferry Berkeley, the steam yacht Medea, the San Diego Harbor Pilot, also an actual Soviet-era diesel B-39 submarine and the deepest-diving submarine ever, a retired diesel research submarine named the USS Dolphin. You will also find two replica ships one is a detailed re-creation of a 24-gun British frigate named the HMS Surprise, as seen in the movie Master and Commander starring Russell Crowe the other is the Californian, which is a replica of the 1847 Revenue Cutter C.W. Lawrence, which patrolled the coast of California enforcing federal law during the gold rush. The Californian is the official tall ship of the State of California. You can go aboard and explore these historic ships, see maritime artifacts, charts and take docent-led tours. Be sure to visit all their exhibits and watch the construction of a full-scale replica of Juan Rodriquez Cabrillo's flagship the San Salvador.
Tickets & Hours
Open daily 9 a.m.–8 p.m. with extended hours Memorial Day through Labor Day. Admission is ($16) adults; ($13) active military with ID and seniors 62 and over; ($8) children 4–12; children 3 and under free. For only $5 more you can enjoy a one or two-hour cruise aboard the
Harbor Pilot
.
Purchase
Family Package Admission
and save $5. For discounts and other perks, become a Maritime Museum member ($40-$65).
Be sure to use their discount coupon and get $2 off admission!
Open daily 9 a.m.– 8 p.m. and till 9 p.m. Memorial Day through Labor Day. You can now sail aboard the historic
Californian
ship at the Maritime Museum. The 145-foot long ship is a replica of a 19th century warship.
Adventure Package
price ($31–$42) includes admission to the museum and a four-hour San Diego bay cruise.
South of the foot of Broadway Pier along Harbor Drive are more attractions galore. You'll see eye-catching skyscrapers, high-rise hotels and luxurious condos that reflect the glimmering coastal sunsets and a whole lot more.
Whatever you do, don't overlook the opportunity to experience the magic of the
USS Midway Museum (5)
(619-544- 9600). It's the world's largest floating naval museum. Admission includes a selfguided audio tour, where you'll learn about the USS
Midway's
fascinating history. On the flight deck are historic military aircraft like the ones that landed on this aircraft carrier. From the 4.02-acre flight deck you'll have a stunning view of the downtown skyline and San Diego Bay! Below deck explore the city at sea, which is a fascinating re-creation of life aboard an aircraft carrier.
The museum is open 10 a.m.–5 p.m. daily. Admission is $19 for adults; $16 for seniors 62+; $15 for students age 13-17 or with college ID; $10 for retired military with valid ID; $10 for youth ages 6-12. Active-duty military and children 5 and under are free.
Be sure to use their coupon for a free youth admission with one or more paying adult
.
If you like the USS Midway Museum, you might also enjoy the the
Flying Leatherneck Museum
in Balboa Park, where there are artifacts, photos and displays that help visitors relive the stories of courage, sacrifice and achievement in World Wars I and II, Korea, Vietnam, Desert Storm and Operation Iraqi Freedom.
| | | |
| --- | --- | --- |
| | | |
| Maritime Museum | USS Midway Museum | Summer Pops |
Downtown Restaurants on the Embarcadero
A restaurant that comes with high marks for its commitment to naval aviation is Kansas City Barbeque (7), located just two blocks from the USS Midway Museum at 600 W. Harbor Dr. (619-231-9680). This restaurant, which has been in business for more than 28 years, is downtown's only barbecue restaurant. Besides its great-tasting food, its claim to fame is that scenes from the 1980s hit movie Top Gun were filmed here. This is also a great spot for happy hour, which is daily 3:30 p.m.–6:30 p.m.

Literally next door to the USS Midway Museum is one of the Embarcadero's most popular restaurants. In fact, it's the top-grossing restaurant in San Diego! It's The Fish Market (6) (619-232-3474) at the foot of G Street. Plus, it was awarded the prestigious Gold Medallion Award designating it the best seafood restaurant in San Diego by the San Diego Restaurant Association. This impressive, casual, bayfront seafood restaurant also has a sushi and an oyster bar, as well as a fish market in the foyer. You'll be impressed with their 100-plus-item seafood menu. To ensure that customers get the freshest seafood possible, they operate their own fishery and boat, the Pilikia. Also, they have worldwide sources for fish they fly in daily.

Upstairs is where you'll find their gourmet seafood restaurant called Top of the Market (619-234- 4867). Its rich setting features spectacular views. Dine inside, on their patios or on the terrace and enjoy a meal to remember and a wonderful bay view. Both restaurants are open daily from 11 a.m.

Here too is Joe's Crab Shack (17) at 525 E. Harbor Dr. (619-233-7391), which is housed in the former boathouse of the historic San Diego Rowing Club. History buffs will enjoy seeing memorabilia of San Diego's first rowing club. Plus, if you attend Summer Pops, this is a popular place to dine.
Staying in Great Hotels on the Embarcadero
The next door neighbor to the south is Seaport Village, the immensely popular specialty shopping center with excellent restaurants and shops to discover. See their walking tour at the end of this chapter. To the south of Seaport Village is the Manchester Grand Hyatt Hotel (16) at 1 Market Pl. (619-232- 1234). Besides its ideal waterfront location, it's also home to Sally's Seafood on the Water Restaurant. Farther south is the San Diego Marriott Marquis & Marina (9) at 333 W. Harbor Dr. (619-234-1500). Its waterfront location makes it the perfect destination for business and leisure accommodations. And literally next door is the world renowned San Diego Convention Center (12) at 111 W. Harbor Dr. (619- 525-5000). It hosts conventions of all sizes including trade shows, meetings and special events. The center has 1,950 underground parking spaces and several floors of meeting space.

The newest hotel on San Diego Bay is Hilton San Diego Bayfront (8) at 1 Park Blvd. (619-564-3333). This 1,190- room, 30 story high-rise has a great bay view. Tucked behind the immense San Diego Convention Center is the picturesque Embarcadero Marina Park South.
| | | |
| --- | --- | --- |
| | | |
| Manchester Grand Hyatt | San Diego Marriott Marina | Hilton Bayfront |
San Diego Symphony's Summer Pops
The park is also home to a wonderful San Diego summer tradition, Ashford University Summer Pops (11). For 10 weeks each summer, the San Diego Symphony performs its Summer Pops series outdoors at Embarcadero Marina Park South on picturesque San Diego Bay. The Summer Pops features a wide variety of musical entertainment including Broadway, Motown, pop, rock and country. This summer's headliners include Wynonna, Dennis DeYoung, Michael Feinstein and Burt Bacharach. The series begins the weekend of July 1 with the Fourth of July Weekend Star- Spangled Pops and ends with the 1812 Tchaikovsky Spectacular on Labor Day Weekend, both concluding with fireworks.

There are also fireworks at the conclusion of each Summer Pops concert on Friday and Saturday night throughout the summer. Seating includes cabaret tables, grandstand and lawn. Summer Pops concerts begin at 7:30 p.m. Tickets are ($17–$76). For more information or to purchase tickets, please call the box office at (619-235- 0804).
| | | |
| --- | --- | --- |
| | | |
| Live Entertainment | Great Live Music | nightly Firework Shows |
Seaport Village on the Embarcadero
Fifty yards south of The Fish Market Restaurant is Seaport Village (13). Celebrating 31 years, this one-of-a-kind attraction consists of more than 70 fascinating little shops and charming bayside restaurants, live entertainment and beautiful bayfront scenery all in one place.

This turn-of-the-century, re-created, waterfront village is ideally located in the heart of downtown San Diego's Embarcadero at Pacific Highway and West Harbor Drive. It's just a short walk from the San Diego Convention Center, luxurious condominiums and high-rise hotels such as the San Diego Marriott Marquis & Marina and the Manchester Grand Hyatt.

Seaport Village is an enchanting recreation of a time gone by. Expect to see street performers as well as friendly face painters and local sketch artists. Seaport Village hosts many festivals, special events, weekend concerts and holiday activities (619-235-4014). It's also a favorite viewing spot for the 40th Annual San Diego Bay Parade of Lights in December.

All of the shops in Seaport Village are open daily 10 a.m.–9 p.m., and in the summer (June through August) most store hours are 10 a.m.–10 p.m. They are even open on Thanksgiving Day and Christmas Day, 10 a.m.–6 p.m.

Also, with a purchase in any Seaport Village store, you can have your parking ticket validated for two hours of free parking. After that there is a fee of ($3) per hour.

A great place to dine in Seaport Village is Buster's Beach House & Longboard Bar (18) (619-233-4300). Catch the island spirit at Buster's with its eclectic tropical decor, aloha service and extensive menu. You'll love their pork luau and macadamia nut crusted chicken. Plus they have pastas, fresh fish specials, burgers, salads, wraps and ribs. An extra plus is dining on their terrace with its romantic bay and marina view.

Be sure to take some time to stroll along the boardwalk. You'll see Navy vessels and cargo ships steaming in and out of the harbor, as well as the city of Coronado, San Diego Bay and the Coronado Bay Bridge. There are telescopes (25¢) along the boardwalk so you can get a closer look at these sights. In fact, you can take telephoto pictures simply by placing your camera up to the eyepiece of these 20-power telescopes.
| | | |
| --- | --- | --- |
| | | |
| Waterfront Dining | Take a Walking Tour | Bayfront Views |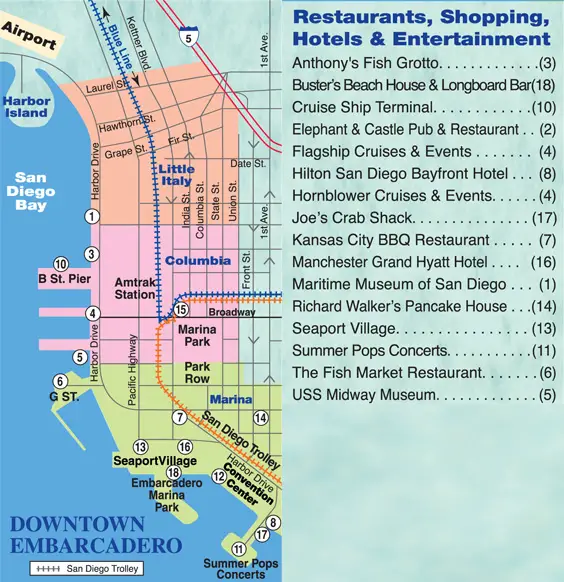 Great Dining on the Embarcadero
Recommended Attractions on the Embarcadero