Historic Old Town is Filled With Museums, Landmarks, Great Mexican Restaurants & Interesting Shops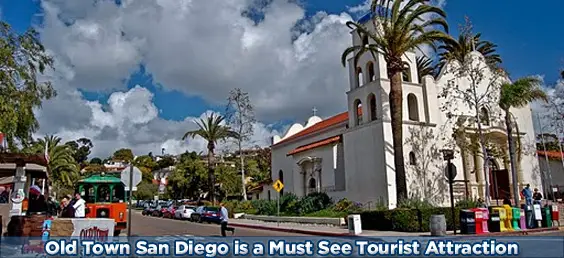 San Diego's Old Town San Diego State Historic Park conveys an authentic re-creation of the city's glorious history between 1821 and 1872. Restored adobe homes, museums, landmarks, commercial shops, restaurants, infor mative park rangers and volunteers all bring the flavor of the past into the present. Don't miss the opportunity to experience Old Town and to walk where San Diego's founding fathers walked.

On September 28, 1542, Portuguese navigator Juan Rodríguez Cabrillo and his crew of Spanish sailors discovered San Diego's beautiful natural harbor. Cabrillo recorded the position of the port he called San Miguel in his log and then set sail, never to return.

Sixty years elapsed before another European explorer set eyes on San Diego. On November 10, 1602, Don Sebastian Vizcaino and a small armada sailed into the well-protected harbor. But more than 150 years passed before New Spain finally saw the need to establish a settlement north of Baja California, Mexico. In 1769 New Spain directed Don Gaspar Portola and Father Junipero Serra to proceed northward from Loreto, Mexico, and to establish a colony and a mission in San Diego.

On July 16, 1769 Father Junipero Serra founded the first of 21 missions in California, the Mission of San Diego de Alcalá. The remains of that first mission can be seen in excavations in Presidio Park (31) above Old Town.

A visit to Old Town, the historically significant birthplace of San Diego and California, is a must. Here you will see California as it was in the early 1830s. It is truly one of the most worthwhile attractions in all of California. Plus, this is San Diego's only major attraction offering free admission and free parking. So naturally, it's San Diego's most visited attraction.

For a brief overview of a few of the many historic sites in Old Town, take the free one-hour walking tour, which departs from the Old Town San Diego State Historic Park Visitor Center (1) (619-220-5422) located at the Robinson- Rose Building. (The bold-faced numbers in the text refer to locations on the chapter map.) The park staff and volunteers, dressed in old-fashioned attire, conduct tours daily at 11 a.m. and 2 p.m. These informative tours also provide anecdotes of San Diego's Old Town history. The Visitor Center and most of the other historic buildings in the park are open daily 10 a.m.-5 p.m. and 10 a.m.-4 p.m. during the winter months of Dec.-March. Closed Thanksgiving, Christmas and New Year's Day.

You can also take the SAN DIEGAN self-guided tour. Travel at your own pace and discover fascinating historic sites, as well as where to shop and the best places to dine. We recommend allowing 3-4 hours to experience all that the park has to offer.
Getting To Old Town San Diego
If you prefer not to drive to Old Town, you can easily take public transportation. Buses, taxis, the Coaster commuter train and the bright red Metropolitan Transit System (MTS) Trolley all stop at the convenient Old Town Transit Center (4), which is located half a block from the heart of Old Town. If you decide to drive, parking in Old Town is not a problem, except on holidays and often in the summer. There are seven major parking lots in Old Town. All of the lots are designated by shaded gray areas on the Old Town map in this chapter. Also, many restaurants have parking lots.

| | | |
| --- | --- | --- |
| | | |
| Cygnet Old Town Theatre | Hacienda de las Rosas Winery | Fiesta de Reyes |
The SAN DIEGAN Walking Tour of Old Town San Diego
A good place to begin the SAN DIEGAN Old Town tour is at the Robinson-Rose Building (1). The original building on this site was the first commercial building in Old Town. Today, it's home to the Old Town San Diego State Historic Park Visitor Center. Of particular importance is a fantastic diorama of Old Town as it looked in 1872. Press the button in front of the diorama for an audio guide narrating what life was like for the early residents of Old Town. Just behind the Visitor Center is a reproduction of the 1869 McCoy House (2), a fascinating interpretive center that brings alive San Diego's past. Friendly museum staff are on hand to anwser any questions. Interactive displays and rare old photos of San Diego make the McCoy House a must-see historic museum in Old Town.

To the south past the Fiesta de Reyes (3) (see the Fiesta de Reyes walking tour in this section), is the highly recommended Seeley Stables (7), a reconstruction of the original 1867 stable. This replicated mini-museum features horse-drawn carriages and western memorabilia.

Facing the Old Town Plaza is the Cosmopolitan Restaurant and Hotel (6) at 2660 Calhoun St. (619-297-1874) for the restaurant or (619-297-1869) for the hotel. They have a delightful patio and dining room featuring delicious Mexican food and delicious American cuisine And for banquets, weddings and rehearsal dinners, this place is excellent. Upstairs overlooking the Old Town Plaza are 10 individually decorated rooms with bona fide antique beds for overnight accommodations. You can't get any closer to Old Town's authentic historical roots than staying here.

Your next discovery should be La Casa de Estudillo (8). The house, which was the home of Jose Antonio Estudillo, is an excellent example of an early Mexican home with its picturesque red-tiled roof and massive white adobe walls. Built on the plaza in 1827, this large hacienda is a wonderful example of how wealthy, early Californians lived.

The Old Town Plaza (9) (sometimes called Washington Square) is bordered by San Diego Avenue and Mason, Calhoun and Wallace streets. In the 1800s, as in Mexico today, the plaza was the cultural, social and recreational center of the town.

The remaining must-see historic sites are along the northwest side of the plaza (10). Many of these historic sites are home to delightful shops and stores. As you continue along San Diego Avenue, history buffs will enjoy seeing a replica of San Diego's first courthouse (11). This replica of the one built by the Mormon Battalion after the Mexican War of 1847 was San Diego's first firedbrick structure.

Behind the courthouse on Mason Street just west of San Diego Avenue is the Mason Street School (12), San Diego's first public school (see map). Built in 1865, it has been moved several times and now occupies a site close to its original location. Inside you will find antique wooden desks and schoolbooks. Behind the schoolhouse is the Casa de Machado-Stewart (13), a modest two-room adobe house that has been entirely reconstructed to its original state. This must-see house now serves as a living history museum.

Your next discovery should be the first home of the San Diego Union Museum (14). It is the oldest daily newspaper in Southern California that's still in print.

Just outside the Old Town Market (15) at 4040 Twiggs St. is the Old Town Theatre (16) (619-337-1525) which is home to the award-winning Cygnet Theatre Company. There's not a bad seat in the house. The cozy theatre hosts an eclectic mix of classic and contemporary plays.

Just off San Diego Avenue on Harney Street is one of the best sushi restaurants in San Diego County. It's Harney Sushi (19) at 3964 Harney St. (619-295- 3272). From the moment you walk into this trendy Japanese restaurant, you'll see what makes Harney Sushi so unique. The stylish decor and DJ playing hip music make this the perfect place to enjoy sushi. They feature more than 40 sakes, 50 award-winning wines and more than 35 gourmet specialty rolls. All of their entrées are beautifully and artistically presented and they taste as good as they look! Harney Sushi has enhanced the art of presentation, perfected the taste of sushi and created a trendy atmosphere making it the best of the best in Japanese dining. Use their coupon to save 10% on catering orders over $500.

In the next block back on San Diego Avenue is a landmark restaurant worthy of rave reviews. It's the Old Town Mexican Café and Cantina (20) at 2489 San Diego Ave. (619-297-4330). This is more than just a place to eat. It's the place to eat in Old Town. They are known for their award-winning carnitas, frosty margaritas and lively atmosphere. The famous "Tortilla Ladies of Old Town" are here too, making fresh tortillas daily in their sidewalk window.

Next door is The Old Town Esplanade (21) a two-level shopping and dining destination located on the corner of San Diego Avenue and Conde Street. It's home to the famous Café Coyote and Cantina (21) (619-291- 4695), with its wonderful two-story outdoor patio and delicious Mexican food. Cafe Coyote's tequila ambassador is on hand too, to recommend one of their 110 tequilas. Plus, they were voted Best Mexican Restaurant five of the last six years by the San Diego Restaurant Association.

A few doors to the south is the Old Town Chamber of Commerce (22) at 2415 San Diego Ave. (619-291-4903). They are a wonderful resource for accommodations and community event information. They are open daily.

This is as far as the walking tour goes to the south. Now it's time to head back in the direction in which you came via the other side of the street. You might feel a shiver run down your spine as you visit the historic El Campo Santo Cemetery (24) circa 1849. Wooden markers and simple tombstones designate the final resting places of many of Old Town's original residents. Ghost stories abound as well.

At the corner of San Diego Avenue and Harney Street is San Diego's first brick house, the Whaley House (26) (619-297-7511). Built in 1857, this historic site served as a general store, courthouse, school and the first commerical theater in San Diego. It is widely believed to be haunted!

At the corner of Harney Street and Juan Street is Heritage Park (27). Here you'll find a delightful collection of Victorian homes from San Diego's past.

Don't miss seeing the Mormon Battalion Historic Site (28) at 2510 Juan St. (619-298-3317). Tour guides in period dress interact with "talking" photographs of battalion members as they guide you through the museum. Discover ancestral ties to original battalion members using their touch screen database. While you're here, take an old time souvenir photo and pan for gold! The best part is admission and all activities are free! The museum is open daily 9 a.m.-9 p.m.

Two and a half blocks farther down Juan Street is another local favorite, which is celebrating over 80 years in business. It's the delightful La Piñata Mexican Restaurant (29) at 2836 Juan St. (619-297-1631). It's Old Town's oldest, original Mexican restaurant. Expect to enjoy their cozy, festive dining room filled with colorful piñatas, or dine on their romantic patio with its fireplace and bubbling fountain in a garden setting.

At the corner of Taylor and Juan streets (see map) is a shopping and dining experience not to miss. It's the Bazaar Del Mundo Shops (30) (619-296-3161) at 4133 Taylor St. Here in this open patio-style hacienda, complete with a fountain, festive flags and colorful flowers, is an incredible array of Latin American folk arts and crafts to beautify your home as well as very select gift items such as jewelry, fashion and home accessories. It captures the flavor and color of Latin America, yet in a more intimate setting. So come and discover the unique and beautiflul shopping experience that made the original Bazaar Del Mundo so famous. Open 10 a.m. daily.

Also at the corner of Taylor and Juan streets is Diane Powers' Casa Guadalajara Mexican Restaurant & Cantina (30) at 4105 Taylor St. (619-295-5111). This impressive restaurant is well worth discovering. Its festive atmosphere is only surpassed by its outstanding Mexican food. This restaurant is open daily for breakfast, lunch and dinner. Don't miss their popular happy hour Mon.-Fri., 4 p.m.-7 p.m. in the lively cantina bar with a complimentary appetizer buffet.

Last but not least, a tour of Old Town would not be complete without a visit to the Junipero Serra Museum (31) (619-297-3258) in Presidio Park. This mission-style building sits 160 feet above Old Town, and is a tribute to Father Junipero Serra who founded 21 missions in California. The museum is open Sat. and Sun., 10 a.m.-5 p.m.

| | | |
| --- | --- | --- |
| | | |
| Casa Guadalajara | La Pinata | Harney Sushi |
Fiesta De Reyes Shops & Restaurants
There is no place in Old Town quite like Fiesta de Reyes (3) for dining and shopping discoveries for the whole family. This dining and shopping extravaganza is alive with early California charm, festive live Mexican music and folkloric dancing. Ideally located in the northwest corner of the Old Town Plaza, this one-of-a-kind attraction offers two excellent Mexican restaurants and 16 fascinating locally owned shops. Fiesta de Reyes is located at 2754 Calhoun St. (619-297-3100). The shops are open daily 10 a.m.-9 p.m.

A great place to begin your walking tour of Fiesta de Reyes is at the Temecula Olive Oil Company (619-269-5779), which is located on the left-hand side when you enter the courtyard via the Old Town Plaza entrance. The tasting room offers complimentary samplings of their 24 flavorful olive oils and vinegars. Credit cards: AE, DISC, MC, VISA.

Next door to the Temecula Olive Oil Company is the Beacon Artworks Gallery (619-823-6130). On hand to greet you is the personable artist himself, RD Riccoboni. He specializes in colorful paintings of landmarks in Old Town. Credit cards: DISC, MC, VISA.

Continuing along the plaza is Hot Licks (619-293-3111), which also bills itself as the "casa de fuego" which means "house of fire" in Spanish. Hot Licks sells the best selection of the hottest-of-the-hot salsas, sauces and mustards west of the Mississippi River. Credit cards: AE, MC, VISA.

For the best in Mexican ceramic tile, The Tile Shop (619-297-0293) is the place for you. They also carry unusual street number tiles. Mix and match tiles to create the perfect souvenir for your home. You'll love this place!Credit cards: AE, DISC, MC, VISA.

Fiesta Cocina, which means "party kitchen" in Spanish, is the place to shop for one-of-a-kind kitchenware. Food lovers flock here for their collection of handpainted wooden dishware from Mexico.

Take a break from shopping by stopping at Viva el Café Espresso and Dessert Bar (619-299-2230) for an espresso boost. This café has a distinctive southwestern twist to your standard Starbucks. Relax in an equipale, which is a Mexican-style rawhide chair, while sipping their popular Aztec Warrior, which is a blend of espresso and spiced Mexican chocolate. In the dessert case you'll be tempted by the assortment of red velvet cupcakes and their spiced Viva Brownies. Credit cards: AE, DISC, MC, VISA.

If you're not a coffee drinker, visit Fiesta de Reyes's only winery Hacienda de las Rosas (3) (619-840-5579). Their tasting room is the perfect place to enjoy fine local wines. They offer five tastes for ($9.50) and you get to keep the glass. Also ask about joining their wine club. The tasting room is open Sun.-Thurs., 11:30 a.m.- 7 p.m. and Fri.-Sat. till 9 p.m. Credit cards: AE, DISC, MC, VISA.

The Urban Seed (619-584-7768), located diagonally from Hacienda de las Rosas, is a home and garden specialty store 2510 Juan St., Old Town (619-298-3317). Browse their fine collection of French milled soaps, religious art and wildflower seeds under a canopy of twinkling lights. Credit cards: MC, VISA.

The next store on your walking tour is Geppetto's, A Child's Fantasy (619-293-7520) featuring an impressive collection of games, toys and dolls. Geppetto's has eight locations in San Diego County. They even have complimentary gift wrapping! Credit cards: AE, DISC, MC, VISA.

Next door to Geppetto's is La Panaderia Bakery. An Old Town favorite. Every day the bakers make their fried Mexican pastries, similar to American donuts, onsite. They are delicious!

Next door in the corner of the plaza is Silver Lily, which offers beautiful, highquality, artisan-crafted jewelry in silver and semi-precious stones.

Facing the Old Town Plaza is a real show-stopper and a fabulous addition to the fine selection of stores at Fiesta de Reyes. It is the Old Town House of Jerky and Root Beer. It could be the most popular shop, if not, it is undoubtedly the busiest.

Finally, at the southern entrance to Fiesta de Reyes, which was the starting point of our tour of Fiesta de Reyes, is Old Town Roasted Nuts. This outdoor stand offers cinnamon-glazed roasted almonds, cashews, peanuts, walnuts and more! Ice cold water, soda, juice, lemonade and iced tea are also available, as well as gift platters, mixed bags and specials.

A great reason for visiting Fiesta de Reyes is dining at their excellent restaurants. So whatever you do, don't miss the opportunity to experience their two amazing restaurants in Old Town, which are Casa de Reyes Restaurant and the Barra Barra Saloon.

Casa de Reyes Restaurant (3) (619-220-5040) is a real treat when dining in Old Town's State Historic Park. The best way to get to the Casa de Reyes Restaurant is to enter via the south entrance. It's located in the center of the courtyard. Be sure to have one of their famous margaritas while dining under the stars. The atmosphere is warm and festive and the food is delicious. An added plus is the live mariachi music while you dine.

Fiesta de Reyes is also the best place to enjoy daily live entertainment in Old Town for the whole family on their outdoor stage in the central plaza. Enjoy Mexican folklorico dancing Mon., 5:30 p.m.-8:30 p.m.; Sat., 12 p.m.-3 p.m.; and Sun., 11 a.m.-2 p.m. Also, listen to live mariachi music every Thurs., Fri. and Sat. nights.

Located just outside the Fiesta de Reyes southern entrance is the Barra Barra Saloon (5) (619-291-3200). The patio overlooking Old Town Plaza is the perfect place to enjoy the historical ambience with a fabulous meal and a frosty margarita. They also offer indoor dining in their two southwestern-inspired dining rooms.

Be sure to take advantage of Barra Barra's many food and drink specials offered throughout the week. On Mondays kids eat free with a paying adult. Come back on Fri. and Sat. nights for ($1) tacos 10 p.m.-12 a.m. Happy Hour is Mon.-Fri., 4 p.m.-7 p.m. with the legendary "Best Margarita in San Diego... Only Five Bucks!" It's served in a tall glass and is sure to grab your attention!

Shops, restaurants and live Mexican music make Fiesta de Reyes an unforgettable destination. Don't miss this special Old Town attraction!

| | | |
| --- | --- | --- |
| | | |
| Bazaar Del Mundo Shops | Casa de Reyes | Barra Barra |
Middletown San Diego
Halfway between San Diego's first settlement in Old Town and Alonzo Horton's New Town, which is our present-day downtown San Diego, is the nearby tiny business district of Middletown. But what really put Middletown on the twentieth century map was the opening of the famous El Indio Mexican Restaurant 65 years ago.

Middletown is on the nothern side of the San Diego international airport, just off the I-5 freeway at Washington Street, which is the next freeway exit south of Old Town. When you come to Washington Street, you've arrived in Middletown. El Indio Mexican Restaurant (32), is at 3695 India St. (619-299-0333). From a small tortilleria in 1940, it has grown into a thriving business. They have been featured on the Food Network's Diners, Drive-ins and Dives. Many people skip the restaurants in Old Town, downtown and Hillcrest to come here for no-nonsense, authentic Mexican food.