Lake Elsinore is Where You Can Dream Extreme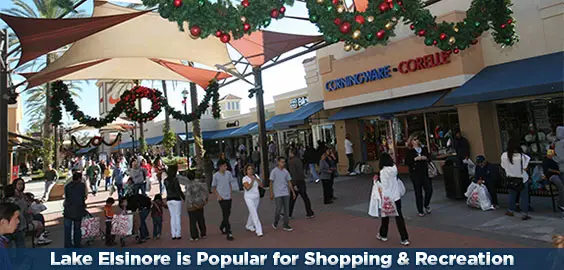 Lake Elsinore
is best known for its spectacular 3,300-acre lake, the largest natural lake in Southern California. It is also famous for its fabulous
factory outlet stores
, a
historic downtown antique distrct
,
world-famous sky-diving thermals
and a championship professional baseball team. It's also freeway close from anywhere via Interstate 15. The
City of Lake Elsinore
is developing a bright future.
It strives to protect the ambience of the lake and open space while building new business and services for future advancement and prosperity. The city's slogan is "Dream Extreme"
visitlakeelsinore.com
. It's a perfect place to escape for a weekend or to even stay a week or more. With everything available to do in Lake Elsinore, you're sure to enjoy your stay.
Discover Lake Elsinore
A major attraction is a visit to the
Lake Elsinore Outlets
(951-245-4989), with over tons of famous name brands to choose from - all at 30 to 70 percent off retail price every day!The outlet center is located off I-15 at the Nichols Road exit, then west to Collier Avenue. It's open Mon.-Sat., 10 a.m.-8 p.m. and Sun., 10 a.m.-7 p.m. For additional information about the Lake Elsinore Outlets, please call (951-245-0087).
Ravioli's Italian Bistro!
, at 123 N. Main St. in Historic Old Downtown, Lake Elsinore (951-245-7242) serves delicious-tasting Italian gourmet entrées with an emphasis on ravioli. Live music is featured Tues.-Sun. It's a Lake Elsinore home town favorite and worth at least one stop during your vacation to the area.
Lake Elsinore's lake provides an exciting year-round resort enviornment with many water sports and activities. Many international competitions and novice events are held on the lake regularly. Extreme sports are a major attraction here too!
The Lake Elsinore Motocross Park
(951-515-1212) has even been featured on ESPN and MTV.
To experience the thrill of a lifetime, pay a visit to
Skydive Elsinore
at 20701 Cereal St. or call toll-free (877-843-5867). This world-renowned skydiving venue is famous not only for its scenic views of mountains, lakes, the ocean and great jump conditions, but also the expertise of its USPA certified staff
Lake Elsinore's
Historic Downtown
reflects the charm of the 1920s with its vintage street lamps and quaint specialty and antique stores. A definite must-visit address is 201 W. Graham Ave. This striking Victorian building was orginally built in 1887 as the Crescent Bathhouse. Today it is The Home Interiors of Mrs. 144, a boutique offering unique decor and gift items.
| | | |
| --- | --- | --- |
| | | |
| Lake Elsinre Outlets | Ravioli's | Downtown Lake Elsinore |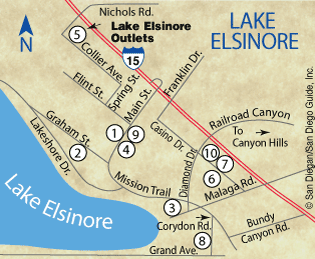 City of Lake Elsinore (1)
The Home Interiors of Mrs. 144 (6)
Lake Elsinore's Historic Downtown (9)
Lake Elsinore Historical Society Museum (4)
Lake Elsinore Motocross Park (8)
Lake Elsinore Outlets (5)
Lake Elsinore Storm Baseball Team (3)
Lake Elsinore Valley Chamber of Commerce (2)
Sizzler (10)
Skydive Elsinore (8)